By Zack Tollman on August 6, 2013
Today, we are excited to announce our newest theme, Collections. It's the perfect home for your videos, photos, and music. Take a look at our demo site, learn more about the theme, or purchase Collections.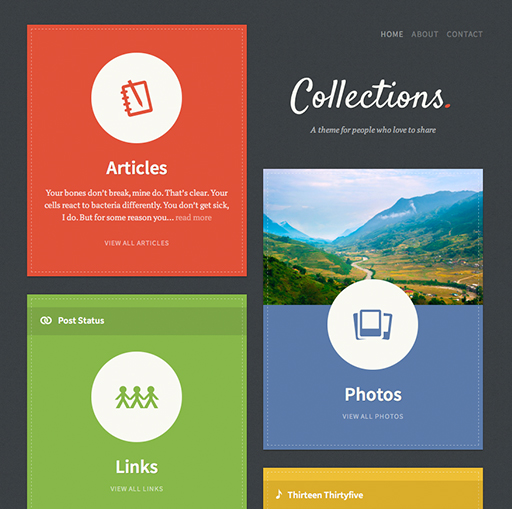 World-class design
Designed by the talented Veerle Pieters, Collections is not only a theme, it's a work of art. Veerle's vision for the theme shines through every pixel of the design. Quotes are wrapped in circles, audio files are decorated with record sleeves, and details are accentuated with retina ready icons.
Ultrafast browsing
We started completely from scratch, and engineered the theme around an all new lightning fast Backbone powered infrastructure. Website content is instantly pulled in with JavaScript, sidestepping the expensive overhead of a full page load. Browsing feels smooth, snappy, and responsive.