By Andy Adams on July 17, 2012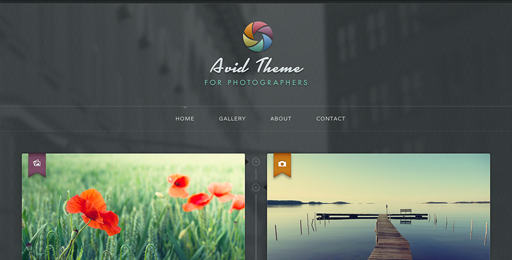 Over the past two months, we've been working hard with the extremely talented Dave Ruiz of Foundation Six to build our latest WordPress theme. The team was given the task of translating Dave's original and visually rich design to the browser. After many long hours of tweaking and polishing, we're happy to announce the release of the absolutely stunning Avid photography theme.
Every detail of Avid is optimized and carefully crafted with photographers in mind. The theme gives you the power to quickly and easily showcase your images, galleries, videos, and blog posts in a beautiful and responsive layout. Take a spin through the live demo of Avid to see it in action.
Retina ready
All images used by Avid are Retina (high resolution display) ready. Images and icons will look crisp and vivid on Retina displays.
Timeline view
The centerpiece for Avid is the posts page. Your posts are laid out in an elegant timeline, chronologically sorted and lovely to behold.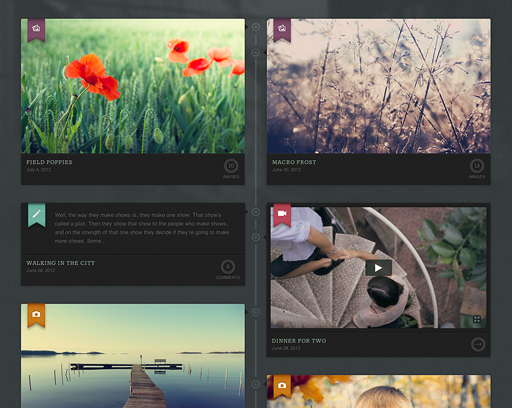 Showcase your images
We've also provided a number of other ways to showcase posts, galleries and images, allowing you to set the mood of your site — anywhere from playful to professional. These include:
Gallery/images view – The gallery and images view provides a portal for quickly browsing your gallery posts and their images.
Individual gallery – Clicking an individual gallery post will bring you to a slideshow with thumbnail navigation that is both functional and beautiful.
Homepage template – For those seeking a more professional look on their home page, we've included a homepage template with a large featured slider. Each slider item represents one post, and is easily configured on the Edit Post screen. Use the slider to showcase your favorite galleries, images or writing.
Customization options
As with every Theme Foundry theme, Avid includes just the right amount of customization options to give you power over your site. All of Avid's theme options are compatible with the new WordPress theme customizer, so you can preview your changes in real-time without saving.
Head over to the theme page to see what Avid has to offer.