By Drew Strojny on May 21, 2014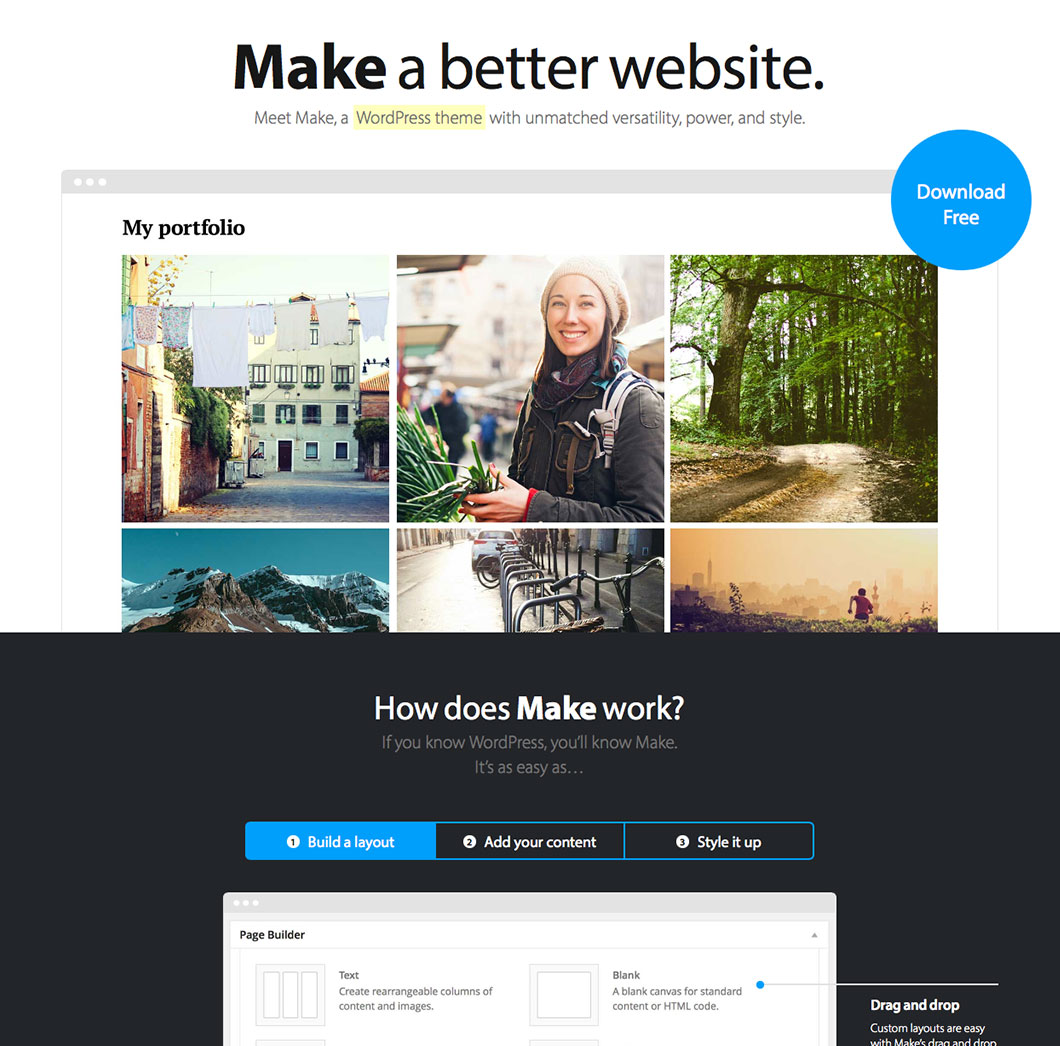 The Theme Foundry started with a free WordPress theme, Vigilance, back in 2008. Since that day, we've focused mostly on premium WordPress themes. Today, we're getting back to our roots.
Introducing Make
We're incredibly excited to announce Make, a powerful new WordPress theme with unmatched versatility and style. Make is completely free and hosted in the WordPress theme directory. It's also fully compatible with popular plugins like WooCommerce, Gravity Forms, Contact Form 7, Jetpack, and WP PageNavi. View the source code and contribute over at the Make Github repository.
Free, and our best yet.

You might think free and think basic. Not so fast. Make is our most powerful and flexible theme yet. In fact, we see it as our flagship theme of the future. It gives you complete control over every aspect of your website, and takes the drag and drop page builder from Basis to the next level. You can build almost any type of website with Make. Here's some sample sites built with Make:
All of these websites were built with Make. None of them required any complex code changes. They all used the built in customization options and the flexible drag and drop page builder.
Take it to the next level with Make Plus
We're also introducing Make Plus, a powerful paid companion plugin for Make. Make Plus brings even more features and customization options to Make. You'll also get our world famous customer support and regular plugin updates. Features included with Make Plus:
Even more WooCommerce: a built in WooCommerce builder section and per-page WooCommerce options.
Get started right away with quick start builder template designs that include demo images and content.
Take your page further with builder widget support. Add widgets directly to any text section in any page.
Use your own Typekit account and quickly add world-class fonts to your website.
No two pages need look the same with per-page options. Set unique sidebars, headers, footers and toggle dates, authors, meta, and featured images.
And more! See all the features on the Make theme page.
Presale customers
If you bought Make Plus during our customer only presale event, sign into your account and click on the Downloads tab. You'll now see Make Plus listed in your downloads. Install it like any other plugin and drop us a line in the Help Center if you have any problems. Please be sure to update Make to version 1.0.5 before using the plugin.
Try it for free!
Make is free, so we'd encourage you to download it and give it a try. We really hope you like it. Let us know what you think in the comments!