By Scott Rollo on December 14, 2011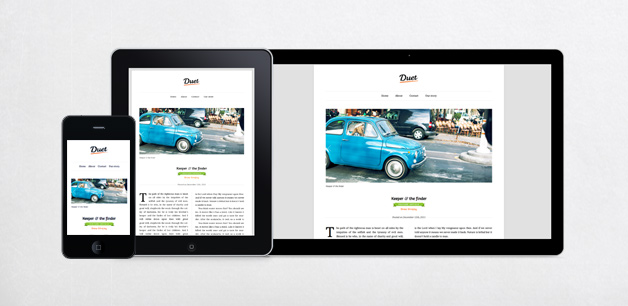 We're extremely excited to announce our latest theme: Duet, a minimal, sophisticated WordPress theme tailored for writers, journalists, and business bloggers. We've worked hard to meticulously craft and refine Duet over the past three months, and we're proud and excited with the result. Some of the features include: two-column layout (using CSS3), custom typography, custom color schemes, and a flexible featured slider.
We designed Duet using a mobile first approach; this responsive theme looks amazing in the browser and equally as awesome on your iPad, iPhone or other mobile device.
Did you know that Surf Office, Postmatic, Yeah Dave, and over 700,000 small businesses run their websites with Make, our free WordPress page builder. Discover the Make page builder now.
Be sure to check out the theme page, and demo video below to discover more about Duet's exciting features, and the demo site for a live preview.
We would also like to give a huge shout-out to Agustin Sanchez for allowing us to use his awesome photographs on the demo site!