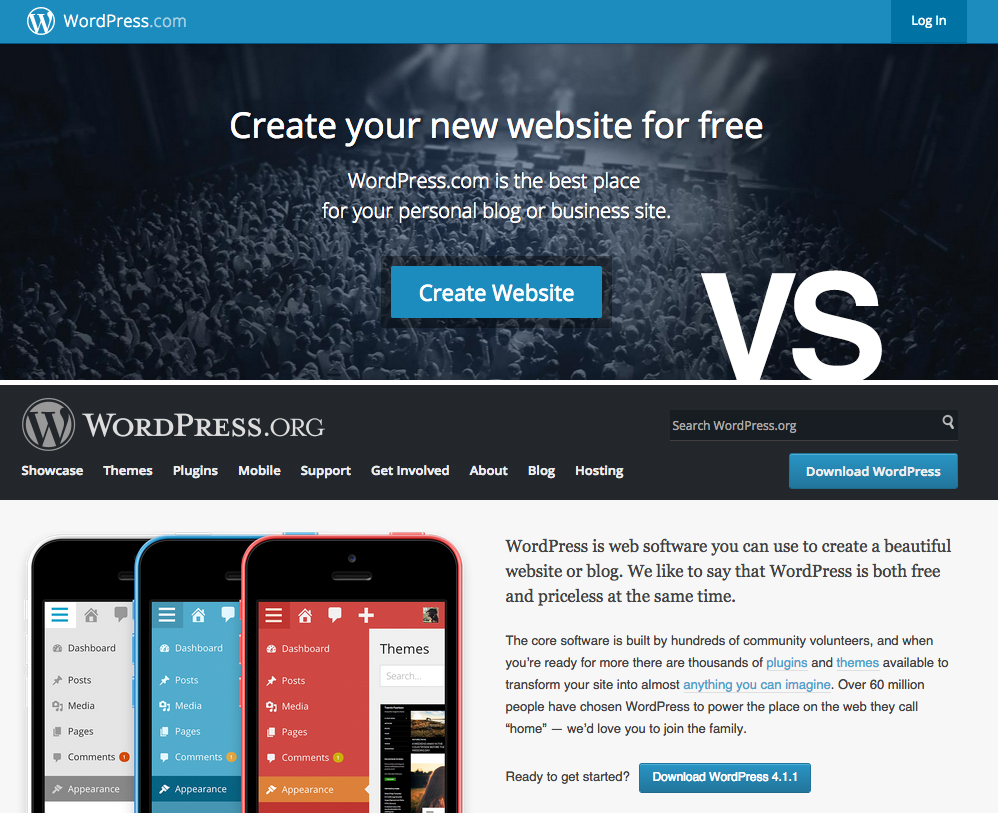 We love WordPress.com and have a lot of happy Theme Foundry users over there. It's a great managed solution for people who are new to WordPress or just getting started with a blog or website. But occasionally we are asked about transferring from a site hosted on WordPress.com to a self-hosted installation of WordPress.org. Today we're going to look what you can expect if you decide to move your site from WordPress.com to a self-hosted WordPress.org site (and vice versa).
Why move?
For new WordPressers, the differences between WordPress.com and WordPress.org aren't exactly obvious, so we field a lot of questions about features, and are frequently asked to make recommendations about which solution new blogs and websites should go with. Many sites that start out on WordPress.com simply outgrow the service and find they would benefit most from a self-hosted solution where they can install third-party plugins (like Make Plus) and make deeper customizations.
WordPress.com features
Fast, reliable, free hosting
No need to worry about security or spam
Premium and free themes available
Premium plans include custom domains, CSS editor, and ecommerce options
Jetpack integration (includes social media, related posts, and other advanced features)
Dedicated support staff in the forums
WordPress.org features
Install any plugins or themes you want—free or premium
Edit any of your site's files
Us any ecommerce or third-party plugin and integration
Infinitely customizable
Before you make the move from WordPress.com to WordPress.org, you might want to consider the following:
Your content can move, your theme files cannot
You can move your content (pages, posts, comments, etc.), but not your theme files, even premium themes. Themes for WordPress.com don't work on self-hosted WordPress, and vice versa. You also can't move any free themes you've customized through CSS editor from WordPress.com to WordPress.org (save your customizations though, and add those after you install your theme).
WordPress.org is free, but hosting and running a site is not
WordPress.org may be free, but hosting, premium themes, plugins, anti-spam and security plugins may not be. In fact, these costs can add up quickly. If you're used to paying next to nothing for your website at WordPress.com, you may be surprised by how the associated costs can add up. That said, the ability to create powerful eCommerce websites or start a new business through WordPress has never been more affordable.
Still, for hosting, you can expect to pay anywhere from $5-10 per month for shared hosting, up to $50 per month for a more robust hosting solution, depending on your site's needs and where you are in the world. There are a lot of factors to consider when choosing a host, but we have recommend to our customers (in no particular order) Kinsta, Flywheel, Media Temple, and Dreamhost—all of which have plans specific for WordPress.
Moving (and maintaining) a self-hosted site is your job
Depending on the complexity of your site, whether you're using premium themes or a custom domain, etc., you'll likely need to make yourself a checklist to ensure a smooth transition. If you're not able to bootstrap your move, WordPress.com offers a guided transfer service (for a fee) to move your site from their servers to one of their recommended hosts. Many WordPress hosts offer free site migrations with their plans also.
Once you're set up on your own server, the responsibility of ensuring your site remains updated, secure, and in working order is also yours. But with great responsibility, comes great power. With a self-hosted installation of WordPress, you'll be able to take advantage of the 36,000+ plugins available to extend and expand your site's functionality. And you can install any theme you like, edit it to your heart's content, or create your own entirely from scratch.
It goes the other way too
There are a lot of reasons folks using self-hosted WordPress.org sites may want to move to WordPress.com as well—including dedicated support and fast, reliable hosting. If you find yourself in a position where managing your WordPress site is over your head, or you don't need custom features and third-party plugins, WordPress.com may be the answer you're looking for.
In that case, moving from WordPress.org to WordPress.com is as simple as following a guide and running the export/import tools from the WordPress dashboard. Once you're there, you can find and pick a premium theme for your site, including many of ours we've put together specifically for WordPress.com.
The bottom line
The WordPress world is as diverse as its many users. The beauty of this diversity is that you have choices, based on your project requirements, the level of customization you need, and how much you want to be involved in site maintenance and updates. There's really no one right way to run your WordPress site.
Enjoy this post? Read more like it in Tutorials.