By team on December 22, 2014
"Well-meaning British friends advised me not to use the term "special relationship" before I came to London. They said it was hackneyed, worn out, a cliché. I listened – then quickly realized when I got here that they were wrong. The US-UK partnership really is exceptional."

–Matthew Barzun, United States Ambassador to the United Kingdom
It's always a pleasure to see someone benefiting from one of our themes. And when it's clear we're really helping a small business enhance communication with its audience, seeing one of our themes in action is more than just a pleasure; it's an honor as well.
On other occasions, we're totally blown away that a certain person or organization has chosen to use one of our designs – and that's exactly how we feel about this user: the United States Embassy in the United Kingdom.
The Embassy publishes a digital magazine, and it's using Oxford to make it happen.
The perfect choice for a magazine
Not only will we concur with Ambassador Barzun's assertion that the US and UK enjoy an "exceptional" partnership, but we also believe the Embassy has done some exceptional work with our Oxford theme. Another happy partnership? We sure think so.
The Embassy's Special Relationship Magazine provides practical information about consular services, expounds on what life is like for Americans across the pond, and further bolsters the cultural, political, and social bonds between the US and the UK. Contributors update the blog frequently and have tackled subjects from World AIDS Day to the advantages of dual citizenship.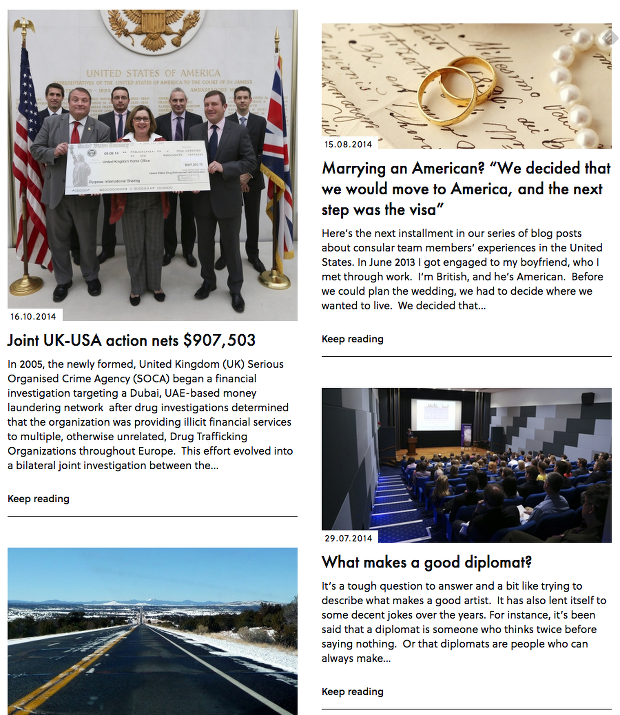 We think Special Relationship Magazine makes brilliant use of Oxford's styling capabilities and demonstrates what multi-author teams can accomplish with the theme. Among the bigger Oxford-specific details we noticed were adaptive featured images and extensive archive pages that showcase the nice play between the Soleil and Futura PT fonts. We built Oxford to be a magazine theme, so it's great to see a bona-fide magazine using it!
The lowdown on Oxford
If it's your first time seeing Oxford out in the wild, here's a quick overview of what the theme includes:
Responsive layout that provides a magazine-like experience on any device
Premium Typekit fonts, right out of the box
Adaptive featured image support
One or two-column layouts
Post-specific styling options
Custom background colors on individual pages or posts
It also comes pre-approved by the US Embassy in the UK, and we couldn't be happier for such a distinction. Let us know if you've seen any other great magazines using Oxford!
Enjoy this post? Read more like it in From the workshop.