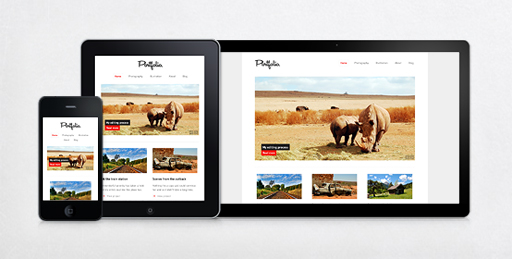 Every theme at The Theme Foundry starts out as an idea that is discussed and then put to paper by our designers. We review and refine the design, and then we build it out in HTML so we can see the design come to life in the browser. From there, every theme is constructed from the ground-up (no frameworks) as we try to build upon the successes (and failures) of our previous themes.
This time, we're proud to present a minimalist masterpiece that is the result of well over a month of back-and-forth hard work from Scott and Drew. The design changed a lot over the development cycle, but as I gaze upon the finished work I can't help but smile. I think they've done it again.
Portfolio is a clean and refined – you guessed it – portfolio theme for elegantly showcasing your client work, photography, videos or artwork.
Portfolio puts all the focus on your work. The light colors and minimal design allow your photos to stand out, grabbing viewers' attention and enticing them to read more.
The strengths of Portfolio are the
Homepage and Portfolio page templates for highlighting your work.
Individual portfolio item display.
Customization options that allow you to make your site feel "just right".
Lovely blog display with lots of easy to use typography options.
Let's take a quick look at each of these!
The Homepage template
When visitors land on your site, you'll want to direct them to the most important and most recent blog posts and portfolio items. At the top of the Homepage template, we've included a featured slider that can link to any post or portfolio item on your site.
Below that, you'll see the "Recent Portfolio Items" section, which automatically pulls your most recent items for display on your front page.
The Portfolio page template
We've paid special attention to your portfolio (or "showcase") page, which displays your portfolio items in a grid that scales down to look just as lovely on mobile devices as it does on large-format displays.
Individual portfolio items
When you click through to a single portfolio item, there is an optional sidebar that can be used to put extra details, a description, your inspiration for the project, or external links to the project website. We've added a couple of styling elements that look especially good in the sidebar: blockquotes and external link buttons.
View a single portfolio item →
If you don't like the sidebar, just leave it empty and it won't appear!
Customization options
As with all of our themes, we try to provide easy to use customization options that make your site feel just right. Portfolio is no different! You can:
Select from 7 lovely fonts for your accent and body text.
Choose a color for your links and other accents to match your logo or brand.
Give your images a slick "fade in" effect when a page loads.
Easily add handcrafted Twitter, Facebook, Google+ or Flickr links to your footer.
It's a blog, too!
Portfolio isn't only about portfolio items. It wouldn't be a complete WordPress theme without a lovely blog layout for your articles, images and status updates (asides).
We've also included several typographic elements including special styling for in-content titles, pull quotes and alerts. We've added these elements to the editor so you can easily insert them in your content without mucking around with shortcodes or HTML.

Check it out
We're very proud of our latest addition and we hope you'll check out the demo site or watch the video tour to see what it can do. There are more details on the Portfolio theme page, but let us know if you have any questions or comments!
We should also give a very big thank you to Teagan White, whose (absolutely stunning) illustrations are being used on the demo site. Thanks, Teagan!