Today, we are excited to announce our newest theme, Collections. It's the perfect home for your videos, photos, and music. Take a look at our demo site, learn more about the theme, or purchase Collections.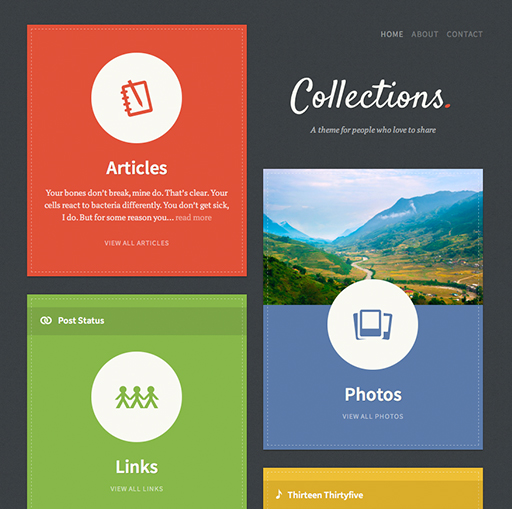 World-class design
Designed by the talented Veerle Pieters, Collections is not only a theme, it's a work of art. Veerle's vision for the theme shines through every pixel of the design. Quotes are wrapped in circles, audio files are decorated with record sleeves, and details are accentuated with retina ready icons.
Ultrafast browsing
We started completely from scratch, and engineered the theme around an all new lightning fast Backbone powered infrastructure. Website content is instantly pulled in with JavaScript, sidestepping the expensive overhead of a full page load. Browsing feels smooth, snappy, and responsive.
Your content, collected
Post an article. Upload a video. Share your favorite music from Rdio, Spotify, or SoundCloud. Each content type has its own unique handcrafted style. Collections is perfect for those who use the different WordPress post formats. All your posts are automatically collected, organized, and presented neatly on your homepage.
WordPress 3.6+
To take advantage of some state of the art features in WordPress, Collections was built for WordPress 3.6 or higher. Ultrafast page loading, special media handling, and post format content extraction all rely on the latest and the greatest version of WordPress.
Own it today
Collections is a labor of love. We are excited to release the theme and hope you enjoy it as much as we do. Head over to the Collections theme page and purchase it today.