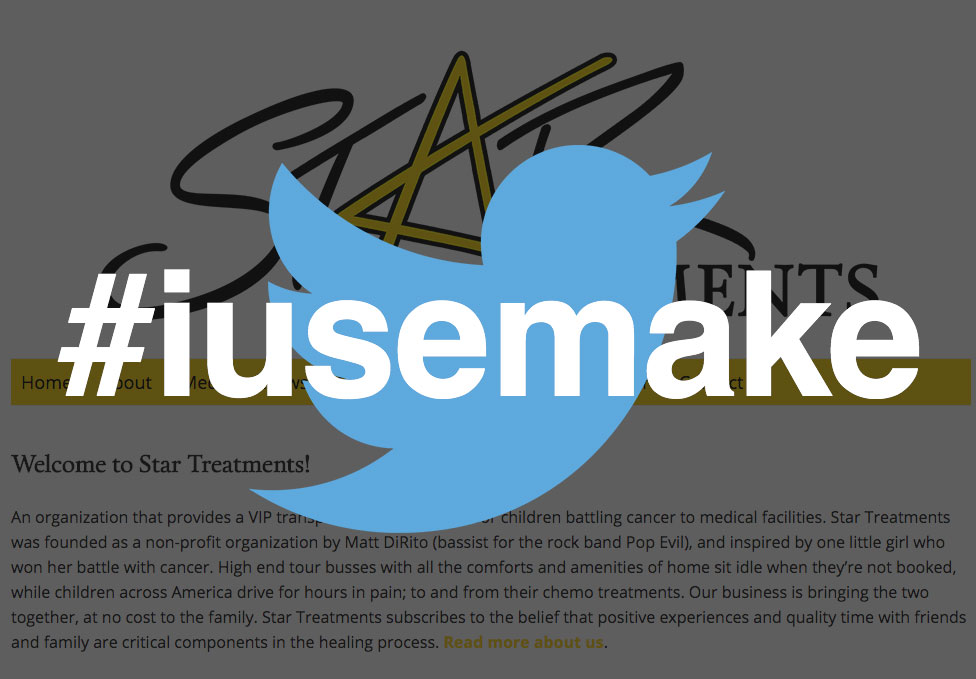 When Make Plus Developer David Wilson sent us the link to Star Treatments we instantly fell in love with this outside-the-box charity organization and were thrilled that he was able to quickly put together an elegant, functional website to showcase this amazing group and raise awareness and funds to support kids going through chemotherapy treatment.

From Star Treatments website:
"What happens when the nearest Children's Cancer treatment center is 400 miles away? Things such as the cost of gas back and forth, a car breaking down, or even taking time off from work could make things very difficult. The last thing anyone should worry about is being able to get their child safely to the care they deserve."
We spoke with David a bit about Star Treatments and what the process of getting this non-profit online was like.
Tell us about your client, Star Treatments
DW: Star Treatments is an organization that provides a VIP transportation experience for children battling cancer to medical facilities. Star Treatments was founded as a non-profit organization by Matt DiRito — bassist for the rock band Pop Evil — and inspired by one little girl who won her battle with cancer.
High end tour busses with all the comforts and amenities of home sit idle when they're not booked, while children across America drive for hours in pain, to and from their chemo treatments. Star Treatments is bringing the two together, at no cost to the family.
Star Treatments subscribes to the belief that positive experiences and quality time with friends and family are critical components in the healing process.
Why did you choose Make & Make Plus for the project?
DW: I chose Make & Make Plus as the theme for the Star Treatments website because I was looking for a theme with an elegance that matches its customizability. The Page Builder template really adds an extra layer of customizability with virtually endless possibilities.
How long did it take you to put the site together?
DW: The construction period building up to the initial launch of the website probably took about a week at most. I went back and forth a few times with my client, Matt, about additional content and edits he wanted to add to the site. Realistically, had I all of the content ready to go for the site, I could have put it all together in a day. Most of the time spent was waiting on some photos from the families of children in the Star Treatments program.
Has the new website made an impact on the organization? How so?
DW: The website I built using Make Plus has been great for Star Treatments. It has given them a central place to drive traffic for their cause. Using some great SEO, we've boosted their page rankings as well. PayPal integrations I added to the website have allowed them to put together a great start to the company's operating budget, but there's always more people can do to help! Check out the donation page for more information on how you can help out!
You can also follow Star Treatments on Facebook to keep up with new events and opportunities to give.