For anybody who doesn't follow WordPress development updates, you'll be happy to learn that the next version of WordPress (version 3.4) is now available!
WordPress 3.4 features a number of improvements and updates, but the most exciting feature for us is the introduction of the real-time "theme customizer", which allows you to preview changes to your theme options as you make them, eliminating the need to save/refresh your site to see what has changed.
We've been keeping an eye on WordPress 3.4, and now that it is released we're proud to announce that our 4 most recent themes (Portfolio, Chalk, Duet, and Anthem) support the theme customizer for all theme options.
We've put together a quick video overview of the customizer:
Click above to watch
To try it out, you'll need to
Install or upgrade to WordPress 3.4 on your site.
Download and install the latest version of your theme from your downloads page.
Navigate to the Appearance → Themes page on your admin panel.
Click the "Customize" link next to your current theme: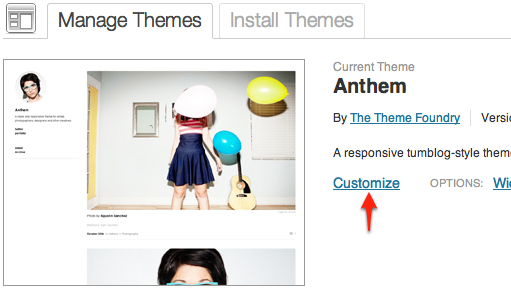 You'll be brought to a real-time previewer where you can modify your theme options and preview them on your site instantly!
Older themes can still use the customizer to change standard WordPress features such as the site title, tagline, and background color. We're planning on adding Theme Options for all themes to the customizer in future updates.
We hope these changes make theme customization clearer and easier to use. If you have any questions about the customizer, just let us know and we're happy to help!